The past year was characterised by a high dynamics of market and regulatory changes in the environment of ENEA Group.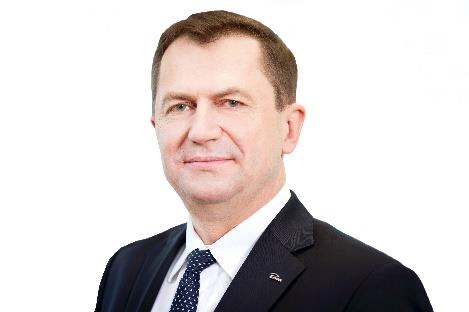 Dear Sirs and Madams,
The past year was characterised by a high dynamics of market and regulatory changes in the environment of ENEA Group. A record-high increase in the price of CO2 emission allowances, rising fuel and transport costs, as well as new regulations for the energy market are just a few of the factors which pressured companies from the power sector, including ENEA Group, to face new challenges and adapt to them, especially in the areas of generation and trading.
In such a demanding environment, in 2018 ENEA Group generated revenue of PLN 12.7 billion, i.e. over 11% greater than in 2017. Consistent implementation of our Development Strategy allows us to achieve increasingly better operating parameters. In 2018, ENEA Group generated 5.5 TWh more electricity than the year before, i.e. 26.4% year-on-year. In this period, there was also a significant increase in the total sales volume by over 2.5 TWh, i.e. 13.4%, driven primarily by sales of electricity to business customers. We also recorded an increase in sales of distribution services to end users which increased year-on-year by 618 GWh, i.e. by 3.2%.
The Group's financial situation is confirmed by external, independent financial institutions – on 1 October 2018, the Fitch Ratings agency affirmed ENEA's BBB long-term local and foreign currency ratings with a stable outlook. A net debt/EBITDA ratio remains at a safe level of 2.4.
Investments in the development of own generation capacity and the security of the national power system
ENEA Group is an essential actor, stabilising Poland's energy security. This strategic role inevitably entails large investments in the development of generation capacity and the modernisation of the existing power units, e.g. in terms of adjusting them to the BAT conclusions. In 2018, we spent over PLN 2.3 billion on investments.
In the previous year, a solution supporting Poland's energy security – the power market mechanism – was launched in Poland. It is intended to prevent electricity shortages and create favourable investment conditions for creating new and modernising the existing generation units. In the fourth quarter, ENEA Group participated in three capacity auctions. As a result of those auctions, a total of 3,663 MW of capacity obligation was contracted for our Group's units, including Unit No. 11 at Kozienice Power Plant, for the years 2021, 2022 and 2023. Multiannual contracts entered into during the first auction make it possible to estimate the potential revenue from the capacity market at PLN 6.6 billion over 15 years. The Group will be able to earmark these funds not only for modernisation, to meet the tighter environmental requirements and adjust its units in Kozienice and Połaniec. These funds should also be spent on new projects and investments, including those in the renewable energy sources (RES) segment.
In the first full year of its commercial operation, Unit No. 11 located at Kozienice Power Plant significantly contributed to the increase in the volume of electricity generated by the Group. It was also an important link in the national power system. Owing to the good operation of this unit despite the planned renovation works on other generation units, July 2018 was the month of record-breaking electricity generation in Kozienice from the beginning of operation of the power plant, i.e. over 50 years. We can confirm that the way our Unit No. 11 has been operating so far meets our design objectives in terms of operation and emissions.
ENEA, together with Energa, is involved in the Ostrołęka C Power Plant project with the capacity of 1,000 MW. At the end of 2018, having received the necessary corporate approvals, the company implementing the investment, Elektrownia Ostrołęka Sp. z o.o., issued the Notice to Proceed. A new power plant was designed so as to guarantee maximum operational flexibility and compatibility with renewable energy sources. The company implementing the project has successfully participated in the capacity market auction, securing additional revenue of PLN 2.6 billion for the years 2023-2038, which represents about 52% of the value of the contract with the project's General Contractor, exerting a significant impact on their expected profitability. Moreover, ENEA's financial involvement in the Construction Stage of the project of PLN 1 billion offers a potential for operational synergy between selected companies of the Group.
Customer in the spotlight
ENEA operates in a dynamic market environment, we change for our Customers to offer them increasingly better solutions. We actively develop sales channels and broaden our range of products and services. In 2018, we launched a new line of modern ENEA Eco products to support the fight against smog. We expanded the ENEA Smart product line by adding the Heating Package. When contacting our Customers, we focus on the level of service, that is why we are constantly working on improving the level of satisfaction with our services. To this end, we have launched a self-service platform for Customers using our helpline and introduced the possibility of arranging visits to our Customer Service Offices via a website and helpline, as well as some innovative solutions, such as on-line chatting available for the Customers on our website.
In 2018, our trading activity was influenced by the record expensive CO2 emission allowances and increasing prices of energy origin certificates, which translated into higher electricity prices on the wholesale market. These trends became more prominent in the business performance of the entire energy industry. In the third quarter of last year, the number of Customers under reserve agreements on the market increased significantly due to the cessation of operations of some electricity suppliers. In order to ensure our Customers a continuous energy supply in such difficult situation, we proposed solutions that encourage them to take advantage of our offer without any additional charges.
Modern distribution infrastructure
In the area of distribution, we continued our work to improve our network reliability indices and increase the ability to react quickly to our users' needs. One of the many investments and modernisation projects that are worth mentioning is the 110 kV overhead high voltage line between Leszno Gronowo and Śrem in Greater Poland, which was put to operation in July. It is the last phase of the conversion of 110 km long line between Leszno and Września and the modernisation of the Main Power Supply Point Zdroje in Western Pomerania. The entire network modernisation programme in 2018 cost over PLN 1 billion.
Stable resource base for power plants
The main resource base for our power plants is Lubelski Węgiel Bogdanka S.A., which is a part of the Group. In 2018, sales revenues of Bogdanka amounted to PLN 1.76 billion. During that year, the company produced 9.01 million tonnes of commercial coal and sold 8.94 million tonnes. The production was lower than planned due to geological and hydrological difficulties that affected the full year results. Bogdanka incurred higher expenses on gallery works in order to increase extraction volumes in 2019.
10 years on the Stock Exchange
In November, we celebrated the 10-year anniversary of the ENEA's debut on the Warsaw Stock Exchange. Nowadays, ENEA is a public entity worth over PLN 4.1 billion and it is the second highest valued energy group on the Polish stock exchange. The company builds its value for the shareholders by implementing an ambitious strategy and development programmes. Moreover, last year ENEA and Bogdanka qualified for London's FTSE Russel's basket and as a result were included in the developed markets indices.
Social responsibility
Environmental protection initiatives, as well as educational, sport or ecological programmes with a focus on local communities are an important element of our strategy. In 2018, we developed two new original programmes which support specialist training: cooperation with industry and technical schools from the area in which the group operates and dual studies programme.
By supporting education, we are investing in the new workforce, which will strengthen Polish energy sector and economy in the future. In 2018, ten institutions from the area in which we operate joined the network of ENEA Group umbrella schools. In October, a group of students from Poznań University of Technology started the dual studies in ENEA Group. It is an innovative system of studying which combines acquiring academic knowledge and gaining practical experience.
In connection with the celebration of the 100th anniversary of Poland regaining independence and 100th anniversary of the Greater Poland Uprising, ENEA Group got involved in 100 initiatives to commemorate these special events. These are initiatives on national, regional and local level. Our employees were also involved in all these actions, for which I am very thankful to them.
Sustainable development of the Group with care for the environment
I would like to emphasise that we are committed to the sustainable development of all our business areas. ENEA Group, as a modern resource and energy holding, invests in environmental solutions and minimises the Group's impact on its surroundings. These efforts need time and large investments not only in terms of money but also in terms of our employees' involvement. It is a commitment to local communities and the entire country, which stems from ENEA Group Code of Ethics. Today, we can proudly share the results of some of our efforts to reduce specific CO2 emission in electricity production. In 2016–2018, the CO2 emission per 1 MWh of electricity generated in ENEA Group decreased by over 7%. Moreover, last year, in comparison to the previous period, our Group generated nearly 11% more renewable energy. In 2018, we allocated PLN 173 million to environmental initiatives.
According to the current Strategy, ENEA intends to significantly increase its share in particular market segments and focuses on the development of new innovative business lines and technologies. We believe that our projects will have a positive impact on the Polish economy and also shape the conditions for local communities development. Continuing the open and constructive dialogue with the society on the basis of our Group's values is an important element of the implementation of these plans.
Yours faithfully,
Mirosław Kowalik
President of the Management Board of ENEA S.A. and CEO